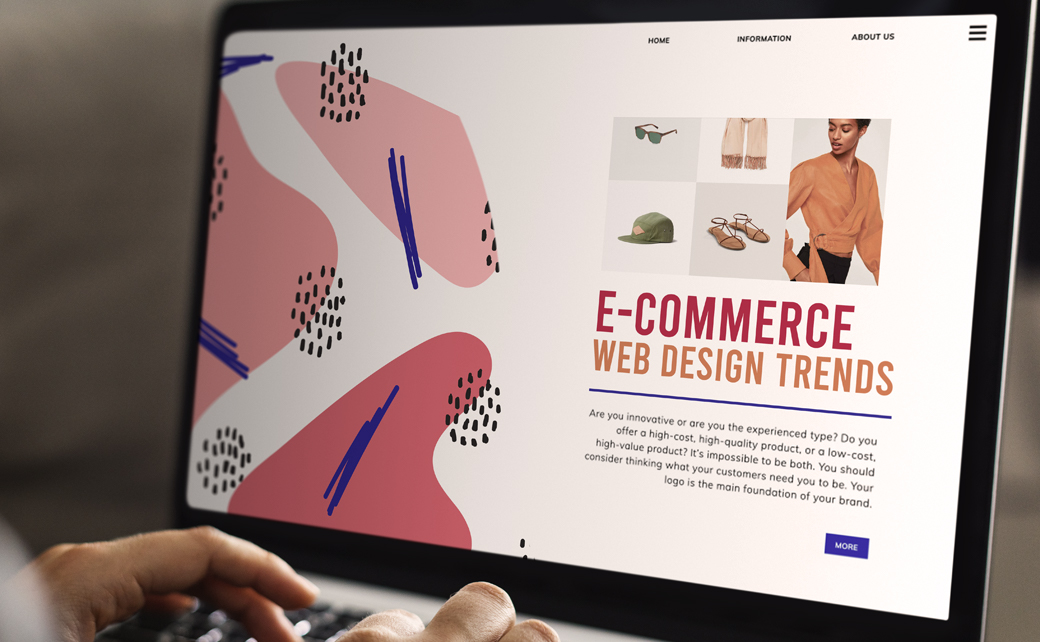 November 5, 2023
Categories:
Advice
Advice: E-Commerce Web Design Trends – How to Secure an Advantage
The pandemic of online shopping is anticipated to rapidly spread worldwide shortly. In fact, Nasdaq predicts that almost 95% of all purchases will occur online by 2040.
Consequently, simply having an ordinary website is insufficient to succeed. To stand out amidst countless competitors and pave the way to triumph, embracing the latest trends in e-commerce website design is imperative. In this blog post, we will unlock the potential of time-proven webshop design practices. So, buckle up and get ready for an exciting journey.
Top Trends in Web Design for e-Commerce
#1 Micro Animations
This year, animation will play a significant role. You can incorporate it into your website design in various ways, such as product displays, reveals, and navigation. It doesn't have to be grand. Even small animations can make a big impact. Just adding an animated hover effect can create a more immersive experience.
Consumer expectations have changed. They crave entertainment. Animation is a tool to enhance the overall experience, making it more interactive, entertaining, and memorable. It can add a personal touch that's challenging to achieve when operating an online store.
#2 Immersive Branding
Users have increasingly high expectations for their digital experiences. The bar has been raised for brands with a digital presence due to the rise of the metaverse and the integration of advanced technologies, such as augmented reality, into the mainstream. Now, it's not just about providing users with a quick and seamless e-commerce experience. It's about crafting a captivating and immersive environment where users can truly engage. Brands are now blending this extravagant concept with their flagship products or exclusive product lines.
#3 Safety Bias
Your e-commerce design should make it clear that you pay attention to security. First of all, this concerns the profile, payment methods, and authorisation. Secondly, the conditions for processing personal data. This includes 2FA, secure online payments, and the use of VPN for PCs by all employees. All employees and contractors should download a VPN for their PC and use it whenever connected, especially outside the office. Otherwise, all users will try to use VPN apps to avoid sharing personal data with you. The same VPN can serve both as a protection tool for you and as a means of protecting clients from you. VeePN, for example, has more than 2500+ servers and advanced security technologies, so it is better to use it to your advantage. Show that you care about your customers in every design element and, even subconsciously, they will feel it.
#4 Neo-Brutalism
During the 1950s, brutalism emerged in architecture as a celebration of the utilitarian aesthetic, embracing an upfront honesty by trading beauty for functionality and challenging conventional design principles. Recently, designers have revived the concept in the digital realm, with its harsh structure gradually permeating the mainstream market.
Neo-brutalism can be envisioned as a milder variant of brutalism, aiming to appeal to a broader audience and offering a more approachable and less obstructive style. While still playing with traditional design rules, neo-brutalism ensures that a website's functionality is not compromised. It injects a subtle edge to your e-commerce store, often achieved through mixing up layouts and intentionally misaligning images or layering elements asymmetrically to create an off-kilter feeling that aligns with the neo-brutalist aesthetic.
#5 Minimalism
Creating effective e-commerce websites involves following best practices such as maintaining a clean design and leveraging the trend of minimalism. Uncluttered pages make it easier for website visitors to find the products they need, while also improving loading speed, overall user experience, and conversion rates.
One of your biggest assets is white space, so it's best to use white or monochromatic backgrounds. Aside from the aesthetic benefits, this design choice also enhances website responsiveness and simplifies adaptation for different device types.
#6 Dark Mode
Dark mode has a special appeal, particularly on OLED screens which have become the preferred display option for modern smartphones. So, why is this important? Studies indicate that mobile users accounted for 63% of all online orders in 2022. By adopting the e-commerce design trend of dark mode, you can captivate the consumer base that is mobile-savvy, effectively leaving your competitors behind.
#7 Augmented Reality (AR)
Businesses can greatly benefit from utilising Augmented Reality (AR) and Virtual Reality (VR) technology, particularly in the fashion, home goods, and retail sectors. These technologies enable customers to interact with products, fostering confidence in their purchasing decisions. Moreover, they add an element of fun to the shopping experience, ultimately bolstering return rates.
#8 Animated Navigation
Maximalism is gaining traction and is ready to dominate the e-commerce space, overshadowing the minimalists. Brands now prefer dramatic color schemes and bold images to enrich the customer experience. They stimulate the audience's senses by filling every available space on their site with interactive visual elements that are cohesive yet loud. Animated navigation stands out as a prominent feature of this approach.
We have depended on header menus and hamburgers for far too long. However, brands now eagerly embrace physically guiding users through their websites, creating an adventurous experience. This approach contributes to the idea of gamifying e-commerce.
#9 Large Fonts
Chunky fonts will be the highlight this year in web design. Whether you like sharp lines or smooth and rounded typefaces, the trend is all about making it large. These fonts not only refresh your website but also grab attention, emphasise your message, and create an inviting tone without clutter. Ultimately, they leave visitors with positive vibes and a warm, fuzzy feeling towards your brand.
#10 Sophisticated Chatbots
Website design trends not only impact the aesthetic elements but also affect the technical aspects. It is anticipated that artificial intelligence will play a significant role in the future of e-commerce website creation.
While chatbots have been in use for a while, their utilisation by brands is evolving. Unlike regular chatbots, AI chatbots can learn about website visitors by analysing data patterns. Consequently, they can be employed for more advanced functions like guiding customers through the buyer's journey and personalising their shopping experience.
Conclusion
The current e-commerce design trends shed light on audiences desiring an idealised reality while shopping online, craving personalisation akin to a shopping assistant available around the clock, all within the comfort of their homes. E-commerce brands strive to offer users lifelike shopping experiences that are immersive, escapist, and brimming with unique attributes. These brands value authenticity, transparency, and innovation, ensuring their success in cultivating loyal customer communities.