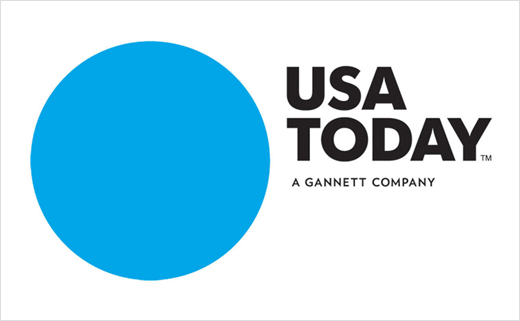 USA TODAY Unveils Redesigned Logo
USA TODAY, a multi-platform news and information media company, is celebrating its 30th anniversary with a redesign on all platforms, as well as the introduction of a new logo.
The new USA TODAY adopts a more current, modern approach. Key elements of the reimagined products include: a total redesign of the newspaper aimed at visual storytelling; a new logo; and a new suite of digital offerings.
In addition to increased color, photos and infographics, the redesign includes a cleaner and more readable typeface. The body copy font and the serif headline font have changed to Chronicle Grade 1. It is the same size as the previous font, Gulliver, but is less condensed and a lighter-weight font with more contrast, providing enhanced legibility.
The secondary font used for the logo, headings, bylines and pull quotes is a bespoke version of the classic modernist typeface Futura used in the original USA TODAY logo, Futura Today. This font was developed specifically for USA TODAY, and every letter has been redrawn and crafted for legibility.
The logo will be a live infographic that can change with the news and is meant to be "fun, bold and impactful".
"We are making a real investment in USA TODAY, and putting a major focus on reinvigorating the value of print media while introducing new digital products in order to provide our readers with a unique perspective and relevant context on a full range of issues, across all mediums," said Larry Kramer, president and publisher of USA TODAY. "We are revolutionizing the way we cover and distribute the news in relevant ways that inform and entertain our readers. This redesign will highlight stronger voices, and further cement USA TODAY's status as one of the nation's premier news outlets that continues to reflect the American experience. We are America's newspaper and we take that responsibility seriously."
One in every seven Americans interacts with USA TODAY on a weekly basis. The new USA TODAY will provide more options for advertisers – including new creative units. A suite of digital products – including an enhanced tablet app, new Facebook app, and new mobile apps – will also let people consume news wherever and whenever they want it.
The new USATODAY.com beta site went live over the weekend. A full launch will follow later this fall.