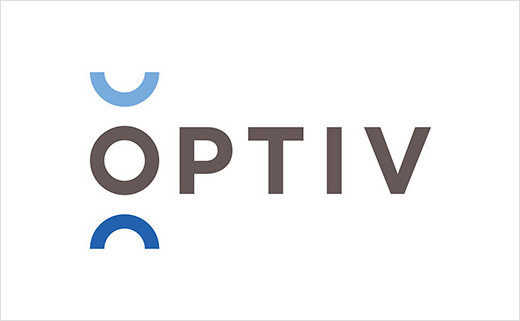 Lippincott Brands Optiv Security
Global branding firm Lippincott has revealed details of its role in the development of Optiv Security's new brand name, strategy, logo and visual system.
Optiv is the newly formed company from the merger of Accuvant and FishNet Security, which joined together earlier this year to create what is claimed to be North America's largest cyber security solutions provider. The transaction closing was announced in early February, and the merged companies are now beginning to conduct business together as Optiv, with the new visual system being showcased this week at the Black Hat USA 2015 in Las Vegas.
As part of the design process, Lippincott says it guided the company in selecting a name that represented the future promise of the combined brands.
"Optiv was chosen as the new name after an extensive selection and vetted process that included reviewing more than 1,200 possibilities, including potential candidates from employees," explain the designers.
The name is a newly coined word derived from "active" and "operative," alluding to what the designers call "intelligent collaboration".
"The new company is a leader in the industry and the new brand reflects its unique ability to help clients navigate the endless chain of available cyber security options, and select, implement and maintain the right solutions to meet their specific needs," says Michael D'Esopo, senior partner and director of brand strategy at Lippincott. "The new name, logo and overall visual system clearly depict the direction of the new brand for employees, clients and partners."
The logo utilises a blue and black colour scheme while the two half circles signify the "endless chain" of available cyber security options.
"The wordmark consists of two half circles that when combined form the letter 'O' of the name Optiv. It is designed to convey the company's ability to unlock powerful, perfectly resolved solutions in the cyber security space," says Marc Hohmann, design partner at Lippincott. "We chose a clean typeface and symbol without flourishes to reflect Optiv's expertise in simplifying complex problems. The colours in the half circle shift upwards from darker to lighter hues creating continuous vertical movement that activates the mark and communicates relentlessness."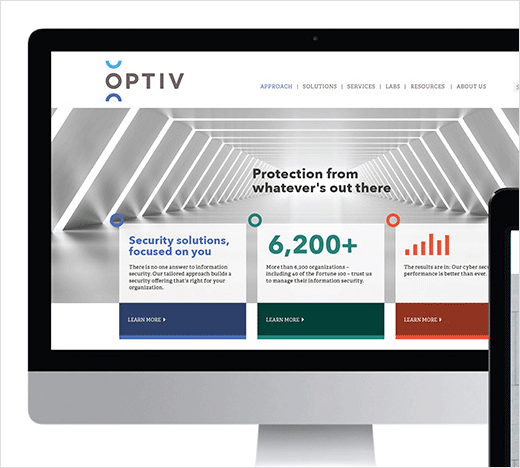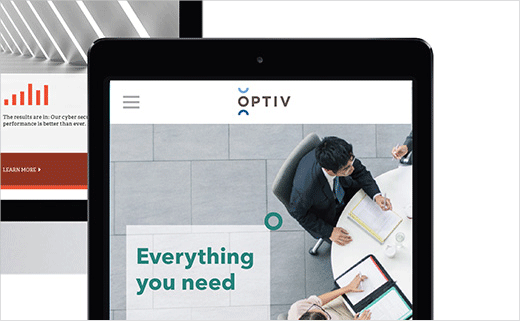 Lippincott
www.lippincott.com