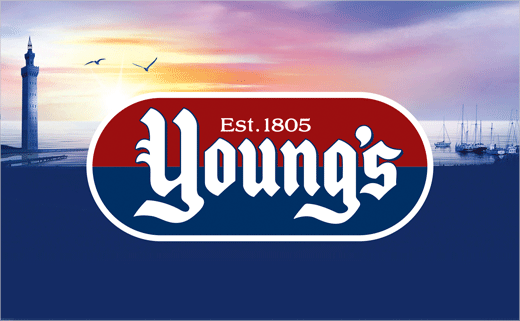 February 25, 2015
Categories:
Food
Springetts Unveils New Master Brand for Young's Seafood
Design consultancy Springetts has created a new master brand for Young's Seafood.
The phased roll out of the rebrand, across all categories is the first for the specialist fish and seafood brand in over a decade. Shoppers will see the new branding on the new recipe Chip Shop range first, celebrating 30 years on Britain's supermarket shelves this March.
The updated branding sees a newly designed version of Young's seascape on all products, creating a visual link between every product and sub-range in the Young's family. The design is based on Grimsby docks and the coastline between Grimsby and Cleethorpes, where the company has been based for many years. The design also incorporates a depiction of the famous Grimsby Dock Tower.
Andy Black, managing director of Springetts, says: "We have replaced the old 'out at sea' seascape with the Grimsby coastal landscape to connect the brand to the land and reflect the business's desire to move beyond being specialists in fish to one of being specialists in great fish and seafood. This is further underpinned by the recipe card approach to product navigation, which delivers a 'seafood bistro' feel."
The new master brand will be rolled out to all UK suppliers of Young's branded products throughout 2015.
Young's Chip Shop kicks off a full rollout process, which will extend to both frozen and chilled ranges including the Gastro range of fish dishes. The new branding will also be applied to Young's fish pie range, following the launch of new recipes last year. The phased roll out will work through all brands in Young's Frozen portfolio with the new Young's master brand extending to the chilled range, which includes over 40 different fish dishes, later in the year.
Springetts Brand Design
www.springetts.co.uk