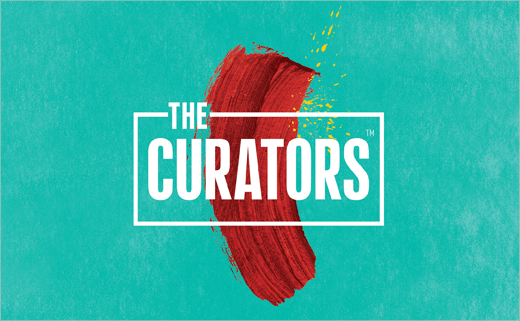 December 5, 2017
Categories:
Food
B&B Studio Brands 'THE CURATORS' Meat Snacks
Startup meat snacks brand THE CURATORS has launched in the UK, with a new brand identity designed by B&B studio.
Founders of the new business, Max Rees and Ed Hauck, claim to be passionate foodies and, in an effort to challenge established players in the high-protein category, have developed a range of jerky flavour profiles that are said to have been inspired by famous chefs and global food trends.
"B&B studio introduced a vibrant brand identity which brings together the concept of curating flavours, as you would art, with the process of curing meat," says the agency. "Under the name THE CURATORS, the brand speaks to the artistry of the meat curation and flavouring process, celebrating the beauty of meat and the art of flavour."
Design details include a single brushstroke of paint that resembles the jerky featured on each pack, as well as bold colours that "reflect the passion and enthusiasm of the founders". The designers have also opted for a "gender-neutral" approach to the packaging.
"To date, mass produced jerky brands referencing strong American traditions of cowboys and cattle have dominated the category and even new challenger entrants have aligned with cliched codes of masculinity. B&B studio's concept for THE CURATORS focuses instead on inspired flavour combinations and the artistry of the product," explain the designers.
"Jerky has been rising in popularity in line with trends for higher protein diets however both established and challenger brands have stuck to relatively narrow type codes, creating an opportunity for a healthy, flavour-rich product like THE CURATORS to disrupt the sector," adds Shaun Bowen, creative partner at B&B studio.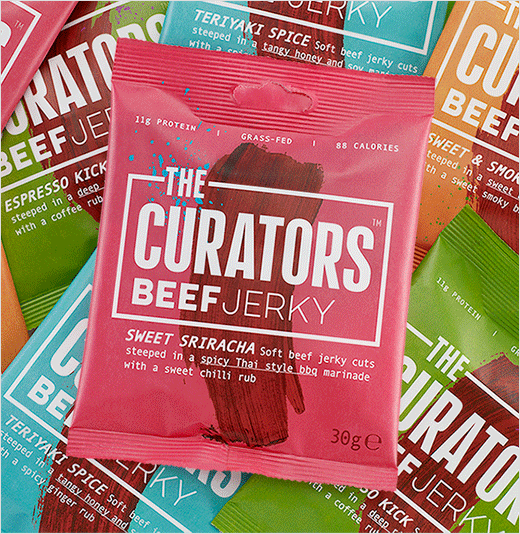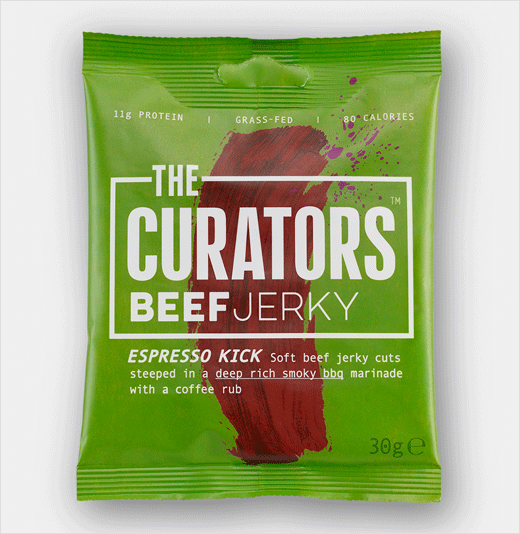 B&B studio
www.bandb-studio.co.uk