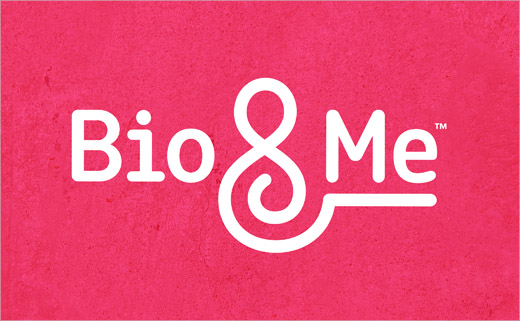 February 3, 2020
Categories:
Food
B&B studio Brands Dr Megan Rossi's 'Bio&Me' Granola Range
B&B studio has designed the identity for new food brand Bio&Me, co-founded by gut health expert Dr Megan Rossi, founder of The Gut Health Doctor.
Created to celebrate "the delicious diversity of plant-based eating", Bio&Me's initial product range comprises four granolas that each contain 15 of the 30 different plant-based foods Dr Rossi recommends for optimum gut health each week.
B&B studio has created the brand from scratch, saying it worked closely with Dr Rossi and CEO Jon Walsh, to deliver the strategic positioning, brand naming and identity, which encompasses multiple touchpoints, from packaging design to digital communications.
"In a category full of confusion, misleading claims and products with added unnecessary ingredients, Bio&Me is a gut health brand with trust at its heart," says the agency. "The design communicates taste and positivity, with a sense of energy combined with warm grown-up foodiness. The name and word mark, with its bespoke ampersand, invites a personal connection between the individual consumer and the brand, reflecting the understanding that everyone's biome is completely unique to them."
The packaging design and website include textured food illustrations to represent the variety of multiple plant-based ingredients in the product, while social assets also embody the 'more the merrier' optimism of the brand. The colour palette is described as "rich and energising, whilst retaining a natural earthiness".
"Our brand identity for Bio&Me creates an optimistic language for talking about gut health, expanding consumers' knowledge without taking away from the joy of eating. Every element of the design embodies this, providing health-conscious consumers with information about gut health, whilst communicating great taste," comments Shaun Bowen, creative partner at B&B studio.
"We wanted to strike a balance between offering expert guidance in a way that doesn't feel restrictive or clinical, whilst also celebrating taste," adds Dr Rossi, who holds a PhD in gut health as well as being a registered dietician and nutritionist.
Bio&Me has gone on sale in Waitrose, Whole Foods, Planet Organic, Selfridges, Booths and As Nature Intended with four flavours, namely, Raspberry & Beetroot, Cocoa & Coconut, Apple & Cinnamon and Super Seedy & Nutty.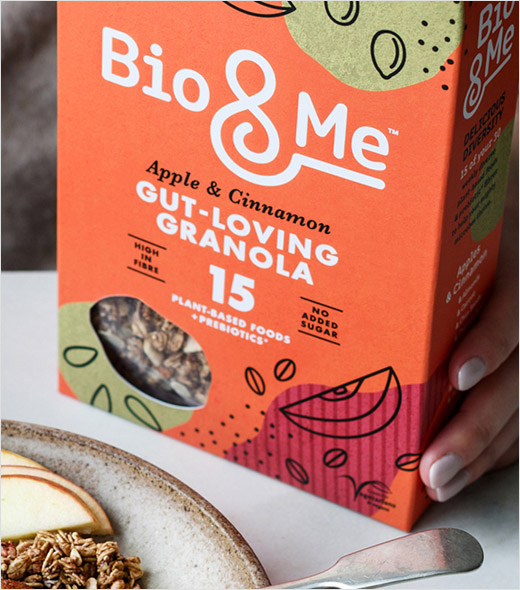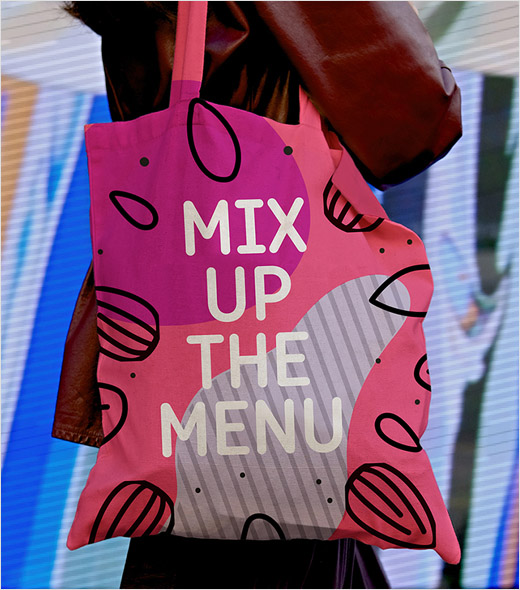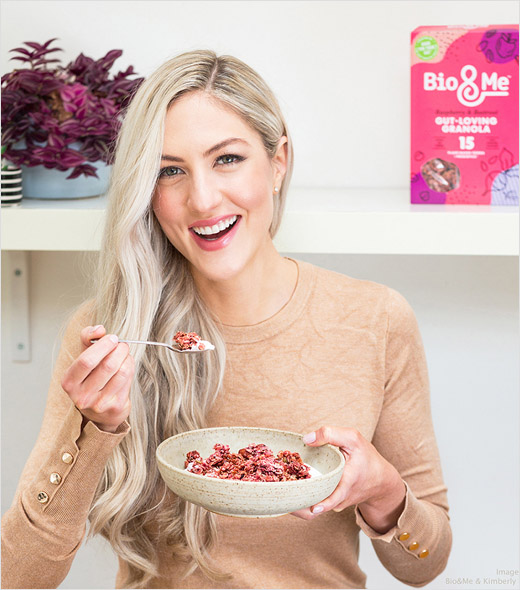 B&B studio / www.bandb-studio.co.uk
Images: Bio&Me / Kimberly Espinel