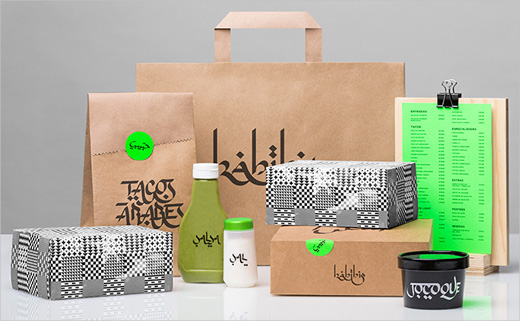 October 28, 2013
Categories:
Food
Identity Design for an Arabic-Mexican Taco Shop – 'Habibis'
Habibis is an Arabic-Mexican fusion taqueria located in San Pedro Garza García, a city enriched by the culinary arts of its third generation Arab immigrants.
Previously a humble taco stand, Habibis approached Mexican branding consultancy Anagrama with the task of creating an identity that would communicate the foods' mixed background and quality without losing its street-friendly, casual demeanour.
Anagrama's subsequent brand proposal is one that adapts stylised Arabic calligraphy to a typical Mexican street setting, complete with neon colours and inexpensive materials such as craft paper bags.
In-depth research and careful understanding of the Arabic alphabet was needed to design the various words and signage in both Arabic and Latin. The custom logotypes are additionally supported by a more neutral secondary typeface, namely, Gotham.
The series of accompanying geometric patterns were derived from a black-and-white checker kufiya (a scarf worn by Middle Eastern men), as well as being influenced from generic mosaic patterns.