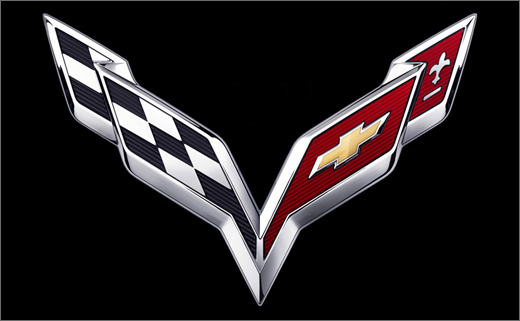 Next Generation Corvette to Wear New Logo
Today, Chevrolet confirmed that the seventh-generation Corvette will debut the evening of Sunday, Jan. 13, 2013 in Detroit. To kick off the countdown to the debut, Chevrolet debuted the new Crossed Flags logo for the new, 2014 Corvette.
"The all-new, seventh-generation Corvette deserved an all-new emblem," said Ed Welburn, GM vice president of global design. "The new Crossed Flags design reflects the character of the next Corvette. The flags are much more modern, more technical, and more detailed than before – underscoring the comprehensive redesign of the entire car."
The new Crossed Flags logo was unveiled at Road Atlanta, as Corvette Racing celebrated a sweep of the 2012 production-based American Le Mans Series GT championships.
The Crossed Flags logo has been a hallmark of the Corvette since its 1953 introduction. It has always incorporated a pair of flags, one a racing checkered flag and other featuring the Chevrolet "bowtie" emblem and a French fleur-de-lis. The design has evolved over the years, but has been featured on more than 1.5 million Corvettes built between 1953 and today.
For the seventh-generation Corvette, the Crossed Flags design is a more technical, more angular, and more swept appearance – a proportion that echoes the new car. It is also a more detailed representation, showing increased depth, color and attention to detail.
More than 100 variations were considered before the final design was selected.
The first Corvette debuted as a concept car on January 17, 1953 at the GM Motorama in New York City. That car originally featured an emblem with a checkered flag crossed with an American flag. As the American flag couldn't be used for a commercial emblem, the logo was changed to the fleur-de-lis/bowtie design by the time the car went into production in June of 1953.