U.S. Insurance Giant Kemper Reveals New Logo Design
Kemper Corporation, which is said to be one of America's major insurance providers, has announced an identity refresh.
The rebrand encompasses an all-new wordmark, positioning and product line architecture.
Ditching the gold colour scheme of the previous logo that was designed by Lippincott back in 2011, the new logotype is set in navy blue and red, which it is claimed "embodies the company's committed team of employees and the qualities of trust, strength and reliability".
The logo is also accompanied by a new brand positioning dubbed "Affordable protection in an ever-changing world".
"Our new branding is one of many parts of our transformation and helps to strengthen our purpose: proudly serving growing niche and underserved markets by providing appropriate and affordable insurance and financial solutions," says Joseph P. Lacher, Jr., Kemper's president and CEO. "Our refreshed logo and streamlined brand architecture convey the continuing evolution and growth of our business, and proudly display the characteristics we want to communicate to our stakeholders about our brands."
Founded in 1990, the Kemper Corporation is in fact a group of companies that specialise in providing car, home, life and health insurance solutions.
Over the next 15 months, the various businesses will transition into four dedicated sub-brands, namely, Kemper Auto, Kemper Personal Insurance, Kemper Life and Kemper Health.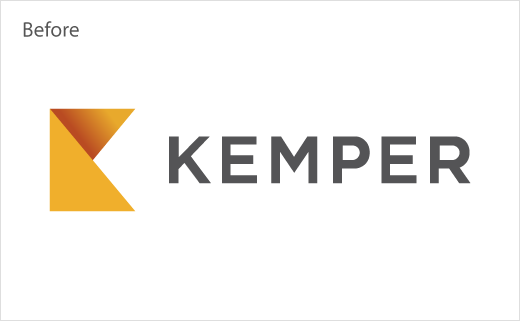 Source: Kemper