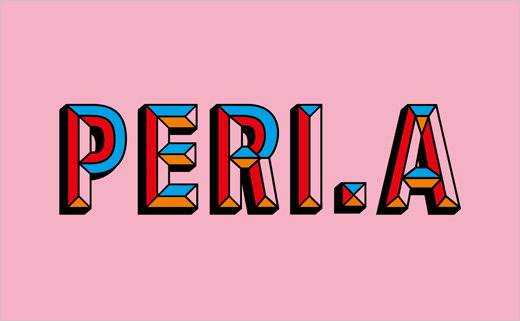 LOVE Brands Luxury Fashion Boutique, 'PERI.A'
Manchester agency, LOVE, says it got a call back in 2016 from Peri Arenas, a socialite from Los Angeles, needed a branding job for her upcoming fashion store.
"She wanted to shake up the American fashionscape, which had, in her opinion, become boring and safe. Think seriously quirky jewellery, in-your-face accessories, pop inspired prints and clothes that scream sass," says the agency.
Her brief to LOVE was "brand the shit out of me!" Ultimately, Arenas was seeking a brand identity that would match her unreserved personality.
"Taking cues direct from the playful labels she loves, and throwing her straight-talking style into the mix, PERI.A was born. LOVE's approach was to bring punchy copywriting together with attention-grabbing type. The result was a brand that drips with attitude and a tone of voice that cuts through the bull," explain the designers.
As well as the bold, chisel-effect logotype, the final identity pack evolved to encompass over 30 individually created items, all of which feature at the brand's recently-opened store on trendy Robertson Blvd in Los Angeles.
"When I first saw everything on my computer I was blown away, and then when I actually saw it physically I felt like a kid in the candy store," says Arenas.